Third Day in Hellhole

By Gene Ott
Sunday morning (05-08-05), about 8:30 am, the dedicated herpers assembled again at the camping area and split into small groups. The temperature today was warmer and promised to reach into the high 80s. Along Hellhole Road, we spotted another Cottonmouth in the roadside ditch.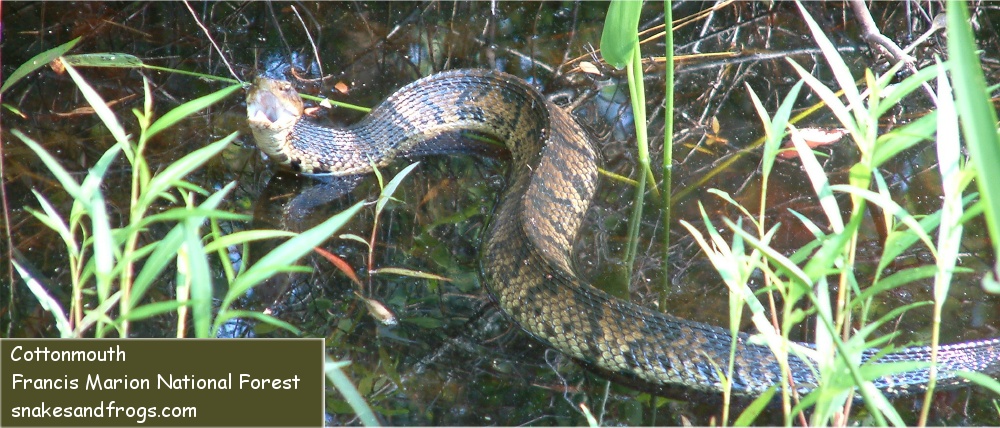 | | |
| --- | --- |
| We left Hellhole Road and began a circular route through areas to the east. In a wooded area we saw a Barred Owl fly up from the roadside with what appeared to be a small snake in its grasp. It dropped the snake and lit in a nearby tree. We searched for the snake but did not find it. | |
| | |
| --- | --- |
| | Moving on, we came upon an adult Mud Turtle crossing the road. We stopped and looked at the turtle. Then, one of the group sighted a very yellow Cottonmouth in the small roadside ditch. |
| | |
| --- | --- |
| We stopped at a fishpond near the camping area. While looking around, I found masses of caterpillars on the trunk of a sapling tree. | |
We all gathered at the camping area about 11 am. After hugs and goodbyes, we split up to return to our homes with thoughts of the weekend of the new moon in May next year.
Win and Paul headed back to their families. However, I decided to stay a while longer and then take a leisurely course back home. I spent another hour or so in the forest. Temperatures reached into the 90s. I saw two Black Racers. Then I headed northwest toward the Piedmont and home.
Return to SC Reptiles and Amphibians
January 17, 2006
Contact: South Carolina Reptiles and Amphibians