I continued to spend most of my free time during August photographing wildlife around my home. I decided to limit my new book of photographs and information about the flora and fauna found in Laurens County, located in the heart of the South Carolina Piedmont.

Newborn Anoles, Fence Lizards, and Five-lined Skinks abound. In the spring pool, I found Green Treefrogs clinging to Cattail stalks.

A batch of snake eggs which had been uncovered at a work site was given to Win. He contacted our friend Joey Holmes for advice as to how to tend the eggs. Win followed his advice and about two days later baby Black Racers began to hatch.

One day while I was photographing, a Robberfly lighted on my truck's window frame. The fly held in its grasp a wasp that it had caught. Beautiful flowers, such as the Cardinal Flower, bloomed in the stream alluvial plains.

During the month, I visited the Belfast Wildlife Management Area located at the border between Laurens and Newberry Counties. This is a 4,000+ acre area that has been added to the SC DNR's management program. It was previously owned by a timber company and has most of its acreage devoted to Pine silvaculture. There are several good unpaved roads into the property. DNR has been adding plantings for wildlife. This year a lot of forest thinning has been performed. I did not see much wildlife during my brief visit, but I am looking forward to returning next summer.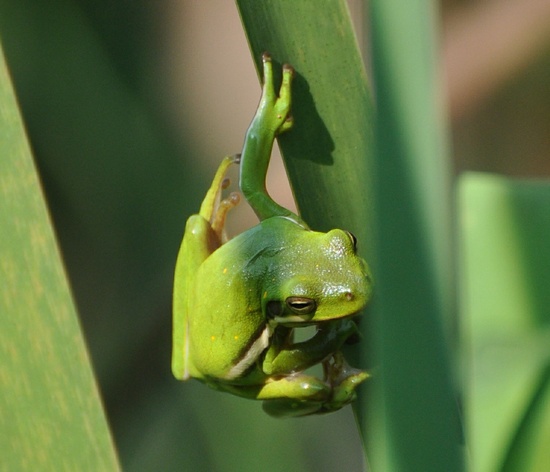 Green Treefrog