In addition to enjoying the Christmas holidays with my family, I spent much of my time practicing using my new camera in capturing bird images. On my bird website, I posted images of the Ruby-crowned Kinglet, Red-breasted Woodpecker, Black Vulture, Turkey Vulture, Harrier Hawk.

I was especially happy to see the female Harrier Hawk (below) hunting in the pasture in front of my house. Harrier Hawks are one of my favorite species. They winter in South Carolina.


On a rainy December 02th, I snapped an image (right) of an American Robin catching a worm in my rainsoaked yard.
With all the rain we have been having, ponds and wetlands are full. On a warm day I placed a minnow trap in a small pond on the farm which had a good population of Red-spotted Newts before the droughts. The first time I checked the trap, there was a Predacious Diving Beetle (below, right) inside. The second time I checked the trap, there were more beetles plus one newt. Thereafter, the pond surface froze with about two inches ice thickness. I plan to check for newts again when the temperatures increase.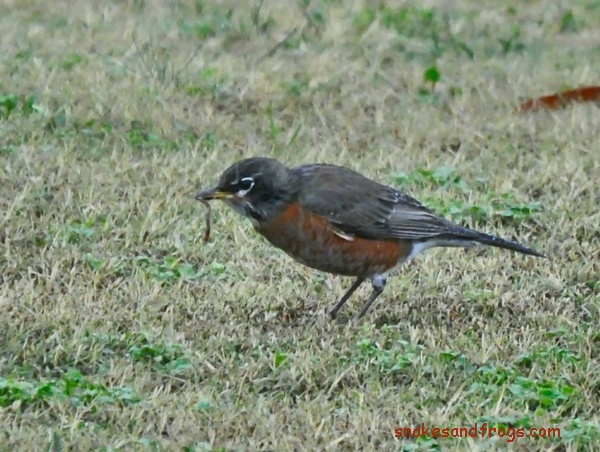 American Robin