Gene's notes
Week ending 03-23-03
Monday (03-17-03) my wife and I left for vacation during school Spring break. The day was gray and rainy. We traveled to Summerville where we booked a motel room and then went sight-seeing and shopping.
Tuesday (03-18-03) in late morning the rains stopped and the sun broke through. We drove to the Old Santee Canal Park at Moncks Corner. This is a beautiful state park, operated by the Santee-Cooper Authority, heralds the first canal constructed to provide planters and merchants a safe, efficient means of transporting goods to Charleston harbor by linking the tidal Cooper River estuary with the Santee River. The Santee River Basin includes the center of the state from the mountains to the sea. The park contains miles of easy, well-maintained trails and many natural interpretative areas. The Interpretative Center melds into the natural environment. There were many sliders basking on logs. One slider appeared to be a Red-eared Slider, a species which is not considered to be native to South Carolina. We saw 2 juvenile Alligators basking. We also saw 2 nests occupied by Ospreys and a Great Blue Heron on its nest. Many Green Anoles scurried about the boardwalks. I was really pleased to be able to photograph one Anole eating its skin as it was shed. The only snake I saw was an Eastern Cottonmouth basking on a root ball. I was on a boardwalk, 10 feet or more from the snake when I spotted it and it spotted me. The Cottonmouth immediately made a strike in my direction, extending its fore body high into the air. Then it resumed a watchful, coiled position.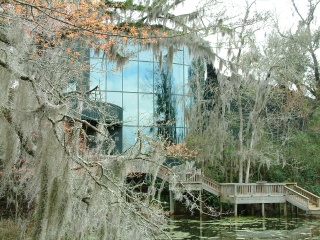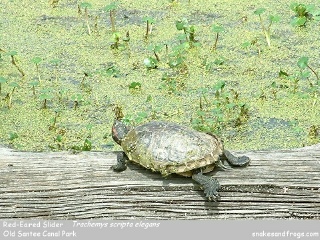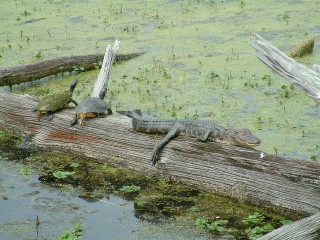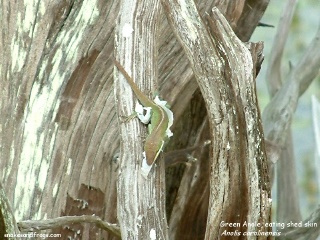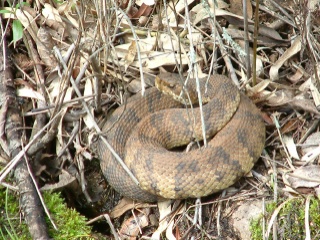 Wednesday morning (03-19-03) before breakfast I spotted a juvenile Raccoon emerge from the salt marsh. Being wet and coated with dark silt, the raccoon looked like a large rat. Later, my wife and I toured Boone Hall Plantation. The fabulous "Avenue of Oaks" leading to the plantation was located just a short way down the road from the bed and breakfast where we stayed near Mt. Pleasant. Especially enjoyable was a motorized coach tour of the plantation. The plantation, with over 700 acres, is an active farming operation. Along the way, we had to wait for an adult female Alligator to move off the road. I was able to capture images of a Great Egret, a Great Blue Heron, Little Blue Heron, and Anhinga. We also saw a Green Heron, Tricolored Heron, Kestrel, and Wood Ducks. There were many basking turtles, but I did not spot any snakes or lizards. The sky was very cloudy and a cool wind blew from the northeast. After enjoying a delicious lowcountry lunch in the plantation kitchen restaurant, we drove into Mt. Pleasant and did a little shopping. I took the opportunity to photo the Ring-billed Gulls and Laughing Gulls scavenging the parking lot.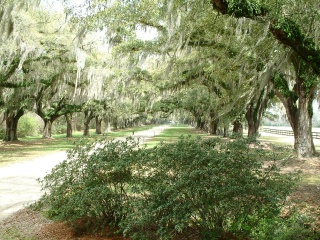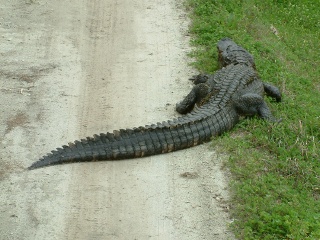 Thursday (03-20-03) was very rainy. We spent the morning shopping and then visited with an old friend living in the area.
Friday (03-21-03) was a beautiful, warm Spring day. In the morning, we visited the SC Aquarium. What a great facility! In the saltmarsh exhibit, I was able to make pictures of a Little Blue Heron, Hooded Merganser, White Ibis, and Common Moorhen. Outside in the harbor, Eastern Double-crested Cormorants were fishing. A Porpoise also hunted by the dock. Later, we drove to St. George where we took a room for the night. I drove to the Edisto River for a quick look. Along the way I found a Spotted Turtle on the roadside. Its shell was intact, but the turtle's muscular response was slow and weak. I placed it in a roadside ditch.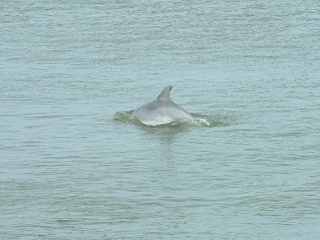 Saturday (03-22-03)was a gorgeous, warm day. In the morning (03-22-03) we cruised roads in the area. A couple years before at this same approximate seasonal time, I had seen Brown Water Snakes exhibiting courtship behavior in pools below a couple of bridges. I was hoping to find the same bridges again and see some more Brown Water Snakes. Before going very far, I checked and found the Spotted Turtle from the evening before had not moved. Further along, I found another Spotted Turtle on the road. Fortunately this one was unhurt and healthy. We never did find the bridges I was searching for. The only snake I saw was a D.O.R. Black Rat Snake. As we travel toward home, we saw many D.O.R. mammals, including 2 Coyotes and 1 Bobcat. We stopped in Branchville and found the Olde School Barbeque Restaurant for some great lowcountry food. After lunch we visited the Ott Cemetary where I searched for some on my ancestors.
Sunday (03-23-03) was another beautiful day. Back home, we had a family gathering. At twilight, I cruised local roads. I found a baby Black Rat Snake on the road. It was alive, but injured. A group of 3 deer crossed the road, and later a Gray Fox darted across.
Gene Ott
====================================================
Joey's notes
Week ending 03-23-03
Monday (3-17-03), Spring break, off work, cold & rainy.
Tuesday (3-18-03), Spring break, off work, cold & rainy. Braving the elements, I went out back and checked my tin. Found several Slimy Salamanders, a Ground Skink, and Eastern Worm Snake.
Wednesday (3-19-03), Spring break, off work, cold & rainy.
Thursday (3-20-03), Spring break, off work, cold & rainy.
Friday (3-21-03), Spring break, off work, Warm and sunny. In spite of many other obligations, I ventured as far as the minnow pond. Green Darners were flying, Eastern Painted Turtles and Eastern Mud Turtles were basking Azures and Falcate Orangetips fluttered about, and I caught my first Cicindela sexguttata (Tiger Beetle) of the year. I even saw Ground Skinks, Green Anoles, Slimy Salamanders and scorpions under debris by the road. Great weather. Great time for a spring walk.
Saturday (3-22-03), Warm and sunny. I had lots of obligations. I did see a Green Darner zoom over the yard.
Sunday (3-23-03), Took my sister and her son, age 7, to the minnow pond for a walk. We saw the first Tiger Swallowtails of the year, as well as Spring Azures, Falcate Orangetips, and (Cabbage?) Whites. Reptiles included Eastern Mud Turtles, Eastern Painted Turtles, and Ground Skinks. We saw Green Darners. We caught some Tiger Beetles (Cicindela sexguttata). Several frogs jumped into the water as we passed, and the shallows teemed with tadpoles. My nephew caught a couple of Cricket Frogs. We caught and smelled some Whirligig Beetles. Good to spend some time outdoors with them. Even better was my second trip to the pond, a solo trip, after dark. I needed to collect some Spring Peepers as feeder items. This was easily done, and I also put a Cricket Frog in the bag. Bullfrogs and Southern Leopard Frogs were seen, but I had no need of them. Insects were real attention-getters. Several Ground Beetle (Carabid) species were scrambling about, including Bombardier Beetles (Brachinus) as well as some stunning green Chlaenius. I found a nice spot of clear water about waist-deep with a large number of Bullfrog tadpoles. Last year's crop, and they were huge. In and out of the area went several Diving Beetles. Fascinating to watch, I stood and shined the light for several minutes, just staring into the water. A Barred Owl hooted in the distance. The Spring Peepers sang with all their hearts. It made it possible to forget, if for just a short while, what is going on in the deserts of Iraq.
God Bless America!
Joey Holmes