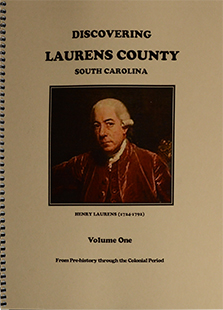 If you have any connection to
Laurens County, or even if South
Carolina Colonial History is of
interest to you, you will certainly
want to have a copy of this history.
It contains chapters on prehistory,
archeological discoveries including
petroglyphs, Native American lore,
substantial colony events that led
to the formation of the county, South
Carolina historical accounts to 1775,
names of original settlers and their
property locations, plats, genealogical
information, a presentation of Colonial
life, name origins, and a great number of
historical maps and photos. This history
is based on authentic sources, but is
unique in that it gathers all these
The book is indexed for easy lookups of
named individuals.

For ordering information, click on the
image and download the printable form.